SEX AND THE CITY, O FILME (Sex and the city, 2008, New Line Cinema/HBO Pictures, 145min) Direção: Michael Patrick King. Roteiro: Michael Patrick King, livro de Candance Bushnell, série criada por Darren Starr. Fotografia: John Thomas. Montagem: Michael Berenbaum. Música: Dean Landon, Aaron Zigman. Figurino: Patricia Field. Direção de arte/cenários: Jeremy Conway/Lydia Marks. Produção executiva: Richard Brener, Kathryn Busby, Toby Emmerich, Jonathan Filley. Produção: Michael Patrick King, John Melfi, Sarah Jessica Parker, Darren Starr. Elenco: Sarah Jessica Parker, Kim Catrall, Kristen Davis, Cynthia Nixon, Chris Noth, Candice Bergen, Jennifer Hudson, Evan Handler, David Eigenberg. Estreia: 27/5/08
Depois de seis temporadas de sucesso, com direito a lançar moda e ditar comportamentos, era de se esperar que "Sex and the city" fizesse a transição da tv para o cinema. O que causou estranheza foi a demora para que isso acontecesse. Tendo seu último episódio transmitido em 2004, a série - criada por Darren Star e baseada em um livro da jornalista americana Candance Bushnell - só viu sua versão cinematográfica quatro anos mais tarde, principalmente devido a dificuldades salariais com Kim Catrall, que exigia um cachê igual ao da protagonista Sarah Jessica Parker. Problema resolvido - com um acordo com a HBO - finalmente os fãs de Carrie Bradshaw e suas fiéis escudeiras puderam acompanhar mais um capítulo de suas personagens preferidas, dessa vez no escurinho de uma sala de cinema e com a extensa duração de 2 horas e meia.
Sim, "Sex and the city, o filme" é um episódio estendido da série - e é inclusive roteirizado e dirigido por Michael Patrick King, que assinou vários capítulos do programa. Isso significa que não tem ambições outras que não divertir o público que conquistou durante seus anos no ar. Para isso, mantém - e expande - tudo que deu certo, além de acrescentar uma personagem nova (vivida pela vencedora do Oscar Jennifer Hudson) e dar a suas personagens crises familiares ainda não exploradas (ou ao menos pouco detalhadas na telinha). Funciona que é uma beleza para todos aqueles que acompanharam a trajetória da jornalista vivida por Parker - que tornou-se produtora executiva no decorrer dos anos - e suas amigas, todas moradoras de uma Nova York fotogênica, antenada com a moda e capaz de deslumbrar o espectador. Pode aborrecer a quem não sabe do que se trata, mas é claro e evidente que não é pra esse público que o filme foi realizado.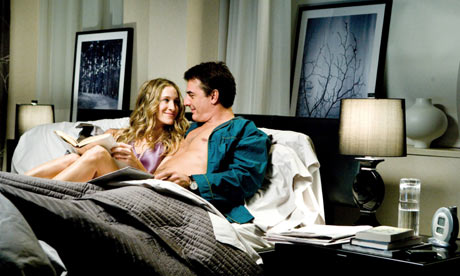 Não se pode dizer que "Sex and the city" funcione única e exclusivamente para quem já tem prévio conhecimento do enredo, mas é claro que os fãs tem muito mais a aproveitar com a trama criada por Michael Patrick King, que começa quatro anos depois do último episódio. Carrie (Sarah Jessica Parker, sempre à vontade no papel) ainda está completamente apaixonada por Mr. Big (Chris Noth) - agora devidamente nomeado como John Preston - e, mais por motivos práticos do que por românticos, aceita casar-se com ele. Enquanto é preparada a cerimônia - que aumenta de tamanho conforme o entusiasmo da noiva - suas amigas passam por fases diferentes da vida. Charlotte (Kristin Davis) está feliz com o marido e a filha adotiva e se descobre grávida quando menos espera; Samantha (Kim Catrall) começa a aborrecer-se com a atenção que dá mais ao namorado astro de Hollywood do que a si mesma; e Miranda (Cynthia Nixon) descobre que o marido Steve (David Eigenberg) a traiu com outra mulher, o que desencadeia uma crise na relação entre Carrie e o noivo.
Como cinema "Sex and the city" não acrescenta muito. Tem vícios televisivos, um roteiro simples - mas que ainda assim consegue emocionar e fazer rir na mesma medida - e dá a constante impressão de ser um episódio triplo da série. O melhor de tudo é que isso não interfere na qualidade do produto final. A química entre as quatro protagonistas continua intocada, a fotografia é caprichada e o figurino de Patricia Field mantém-se como uma personagem à parte. Não deixa nada a desejar junto aos fãs. Não surpreende ter rendido mais de 150 milhões de dólares somente no mercado doméstico. Mereceu!