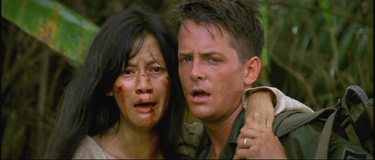 PECADOS DE GUERRA (Casualties of war, 1989, Columbia Pictures, 121min) Direção: Brian DePalma. Roteiro: David Rabe, livro de Daniel Lang. Fotografia: Stephen H. Burum. Montagem: Bill Pankow. Música: Ennio Morricone. Figurino: Richard Bruno. Direção de arte/cenários: Wolf Kroeger/Peter Hancock, Hugh Scaife. Casting: Lynn Stalmaster. Produção: Art Linson. Elenco: Michael J. Fox, Sean Penn, John C. Reilly, John Leguizamo, Don Harvey, Thuy Thu Le. Estreia: 18/8/89
Depois da chuva de Oscar e do sucesso de crítica e bilheteria de "Platoon", Hollywood abriu de vez as portas a filmes versando sobre o Vietnã, um tema até então tabu entre os estúdios - ainda que "O franco-atirador" e "Apocalypse now" tenham tido seu quinhão de prestígio. No mesmo ano em que o mesmo Oliver Stone de "Platoon" mostrou outro ângulo do conflito no contundente "Nascido em 4 de julho", outro cineasta de primeiro time embarcou na tendência. Ainda no embalo do merecido sucesso de "Os intocáveis", Brian DePalma comandou "Pecados de guerra", uma história real de crueldade e violência que, apesar de não fazer o devido barulho junto às cerimônias de premiação - nem tampouco nas caixas registradoras - é forte o bastante para ser considerada um dos pontos altos de sua carreira irregular.
No ar nos EUA como um dos protagonistas da série "Caras e caretas" e marcado como o adolescente Marty McFly dos filmes "De volta para o futuro", Michael J. Fox, tentou, em "Pecados de guerra" provar que não era um ator tão limitado quanto seus detratores alegavam (e Sean Penn, seu colega de elenco, utilizava dessas críticas nos bastidores, para provocar reações mais intensas na sua relação no filme, incentivado pelo diretor). Fox vive o jovem soldado Eriksson, mais um entre os milhares de americanos que foram lutar por seu país na guerra do Vietnã. Ético, pacífico e honrado, ele testemunha horrorizado as atrocidades que o conflito desperta na humanidade, tentando compreender o que acontece à sua volta. Sua indignação chega a extremos, no entanto, quando, liderados por um colega de pelotão, o sádico Meserve (Sean Penn), um grupo de soldados sequestra, estupra e mata uma jovem camponesa. Chocado, ele resolve levar a questão a instâncias superiores, mas esbarra na indiferença que norteia os crimes cometidos em nome da paz.
Deixando de lado os movimentos estonteantes de câmera que caracterizaram seus primeiros trabalhos, DePalma atinge, em "Pecados de guerra" um outro nível em sua obra. Confiando na força da história, das personagens e da mensagem pacifista como um todo, o homem que legou ao gênero suspense filmes como "Carrie, a estranha" e "Doublé de corpo" concentra-se mais em criar o clima de desesperança e angústia dos soldados envolvidos no incidente do que em uma edição picotada ou uma violência exarcebada. Apesar de tratar-se de um filme de guerra, o sangue que corre na história de Eriksson não é o sangue de soldados em batalha e sim de civis, de gente inocente vitimizada por um horror sem fim. Sintomaticamente, a cena mais sanguinolenta do filme é a morte estúpida da jovem raptada por Meserve e cia - que tem lugar justamente fora do front propriamente dito.
E em mais um reflexo de sua intenção primordial de escorar sua obra em pessoas reais e não em efeitos de fotografia, DePalma escolheu um elenco não apenas adequado, e sim extremamente inteligente. Se Michael J. Fox sai-se muito bem na pele do atarantado Eriksson, fugindo com competência da persona adolescente forjada por seus papéis mais famosos, seu elenco coadjuvante não fica atrás. John C. Reilly - estreando no cinema - e John Leguizamo - alguns anos antes de seu assustador "Benny Blanco from the Bronx", do filme "O pagamento final", também de DePalma - seguram bem a barra de servir de escada para o duelo entre o protagonista e o "vilão", interpretado por um já sensacional Sean Penn.
Ainda no início de sua carreira - e já dono de uma personalidade forte como intérprete - Penn assusta e fascina como o insensível Meserve, um rapaz transformado em quase-animal que vê na possibilidade de cometer atrocidades e ser perdoado por elas uma forma de legitimar sua falta de humanidade - ele é uma espécie de retrato de uma juventude inconsequente e cruel, vista com complacência por uma sociedade deturpada por valores morais e éticos equivocados.
Ao questionar não apenas a guerra em si mas também as engrenagens que levam humanos a tornarem-se armas beligerantes e amorais diante de situações extremas, "Pecados de guerra" merece ser louvado e admirado.