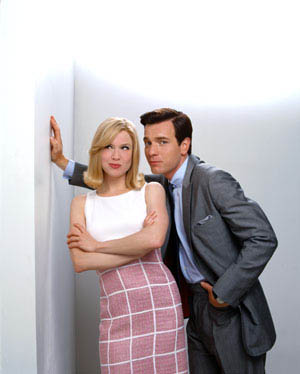 ABAIXO O AMOR (Down with love, 2003, Fox 2000 Pictures, 101min) Direção: Peyton Reed. Roteiro: Eve Ahlert, Dennis Drake. Fotografia: Jeff Cronenweth. Montagem: Larry Bock. Música: Marc Shaiman. Figurino: Daniel Orlandi. Direção de arte/cenários: Andrew Laws/Don Diers. Produção executiva: Paddy Cullen, Arnon Milchan. Produção: Bruce Cohen, Dan Jinks. Elenco: Renee Zellweger, Ewan McGregor, Sarah Paulson, David Hyde Pierce, Tony Randall. Estreia: 09/5/03
Nova York, década de 60. O feminismo ainda é um ideal para a maioria das mulheres americanas, esmagadas pelo machismo latente e nada velado. É nesse ambiente um tanto em combustão que chega a escritora Barbara Novak (Renée Zellwegger), vinda do interior do país para lançar seu livro "Abaixo o amor", onde incentiva as mulheres a tomarem as rédeas de suas vidas amorosas, profissionais e – por que não? – sexuais. Contando com o apoio de sua editora e amiga Vikki Hiller (Sarah Paulson), ela quase que imediatamente vira sensação na cidade que nunca dorme, principalmente quando vai a uma rede de televisão e dá o nome de um exemplo a ser combatido pela raça fêmea: o repórter, playboy e conquistador Catcher Block (Ewan McGregor). Sentindo-se pessoalmente atingido, uma vez que sua taxa de sedução cai astronomicamente depois da declaração de Barbara, Catcher resolve então virar o jogo: assumindo o nome e a personalidade do astronauta Zip Martin, ele tenta seduzir a escritora, para assim desmascará-la como mais uma mulher que, no fundo, busca o que todas buscam: a felicidade nos braços de um homem.
Uma pena que esta divertida comédia romântica tenha se dado tão mal nas bilheterias americanas. Engraçada, criativa e inteligente, ela não conquistou o público ianque, tão mal acostumado a besteiras como as estreladas por rappers e afins. O filme, dirigido pelo pouco conhecido Peyton Reed, na verdade é uma bela e justa homenagem às comédias estreladas por Rock Hudson e Doris Day, nos anos 50, em que uma história de amor quase boba disfarçava, às vezes bem mal, piadas de duplo sentido embaladas em um visual exagerado e que beirava o kitsch. Está tudo isso em "Abaixo o amor". O roteiro, com ótimos diálogos e situações rocambolescas , a direção de arte cafona e over, o figurino extremamente espirituoso, o visual retrô (a tela dividida em duas quando os personagens estão no telefone, por exemplo), a trilha sonora com standards do jazz da época (em que até Astrud Gilberto dá uma canja, cantando "Fly me to the moon"), os coadjuvantes engraçadinhos (a dupla de amigos, vivida por David Hyde Pierce e Sarah Paulson tem ótimos momentos) e a dupla central, entrosada e com boa química, divertindo-se notadamente com suas atuações afetadas (Renee ainda não havia ganho o Oscar de coadjuvante por "Cold Mountain", mas já era uma queridinha da crítica americana), além inclusive do logotipo da Fox com seu visual anos 60 e a presença do ator Tony Randall, companheiro fixo de Day e Hudson em seus filmes do gênero.
O que não deu certo, então? Novamente, a falta de boa vontade do público, que não entrou no espírito da brincadeira, não comprou a idéia de um romance aparentemente ingênuo e com sabor de sessão da tarde das antigas. Nem mesmo o capricho da produção (com o figurino confecionado especialmente para o filme e a direção de arte espirituosa) conseguiu chamar a atenção, relegando o trabalho de Reed ao indesejável rol dos injustos fracassos comerciais. Tudo culpa de uma plateia mal-acostumada a produções formulaicas que não ousam com medo de perder público.
Afinal, só mesmo em um filme como "Abaixo o amor", que não se preocupa com verossimilhança e bobagens do tipo, o final feliz pode ser tão debochado, irônico e até nostálgico. Um filme que merece ser descoberto e apreciado! É só entrar no clima nostálgico e se deliciar.