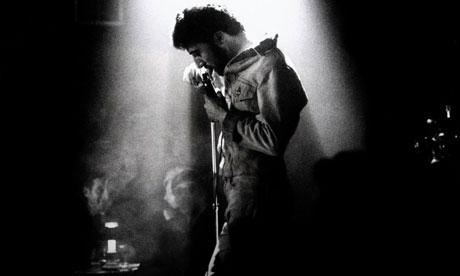 LENNY (Lenny, 1974, United Artists, 111min) Direção: Bob Fosse. Roteiro: Julian Barry, peça teatral homônima de Julian Barry. Fotografia: Bruce Surtees. Montagem: Alan Heim. Música: Ralph Burns. Figurino: Albert Wolsky. Direção de arte/cenários: Joel Schiller/Nicholas Romanak. Produção executiva: David Picker. Produção: Marvin Worth. Elenco: Dustin Hoffman, Valerie Perrine, Jan Miner, Stanley Beck, Frankie Man, Rashel Novikoff. Estreia: 13/11/74
6 indicações ao Oscar: Melhor Filme, Diretor (Bob Fosse), Ator (Dustin Hoffman), Atriz (Valerie Perrine), Roteiro Adaptado, Fotografia
Palma de Ouro de Melhor Atriz (Valerie Perrine) - Festival de Cannes
Lenny Bruce foi um dos mais controversos comediantes stand-up dos EUA dos anos 60, quando o gênero ainda estava em sua pré-história. Suas piadas, repletas de palavras de baixo calão e piadas frequentemente de mau-gosto, que não poupavam nada nem ninguém, incomodaram o e
stablishment
americano a tal ponto que em pouco tempo ele não apenas era famoso por suas qualidades histriônicas, mas também pelos inúmeros processos a que respondeu. Entrando e saindo da cadeia, ofendendo os mais suscetíveis e sendo aplaudido por aqueles que o consideravam um espécime raro no humor normalmente inofensivo dos palcos - entre os quais a banda REM, que o citou nominalmente na letra de "It's the end of the world as we know it" - Bruce deu origem a uma premiada peça teatral da Broadway, escrita por Julian Barry e ao material escolhido por Bob Fosse para seu primeiro filme após o Oscar ganho por seu trabalho em "Cabaret". Amparado por uma atuação (mais uma) irretocável de Dustin Hoffman e uma deslumbrante fotografia em preto-e-branco de Bruce Surtees, "Lenny" é uma homenagem séria a seu protagonista e um libelo pró-liberdade de expressão.
Contado em formato de flashback pela ex-esposa de Lenny, a stripper Honey (Valerie Perrine, indicada ao Oscar e premiada como melhor atriz no Festival de Cannes), "Lenny" é valorizado pela coragem do roteirista em não fazer de seu protagonista uma pessoa menos desagradável que ele realmente era na vida real, não deixando de fora da trama nem seu vício em drogas nem suas orgias sexuais - que o acabaram afastando da mulher que amava. Construindo um Lenny Bruce constantemente à beira do abismo, Dustin Hoffman dá seu costumeiro show, tanto nas recriações de suas apresentações - das quais o público nunca sabia o que viria - como em seus momentos mais intimistas. Falando desde doenças sexualmente transmissíveis até política e problemas sociais e raciais, o humorista tinha uma acidez que ainda hoje é capaz de perturbar, e Hoffman caminha no fio da navalha para fazer dele alguém que se possa simpatizar mesmo quando suas atitudes não são nada louváveis. Para sua sorte, encontrou em Valerie Perrine uma parceira de cena capaz de pontuar com correção seu dedicado trabalho.
Sem maiores créditos no currículo até sua surpreendente vitória em Cannes e a subsequente indicação ao Oscar, Perrine ficou com o papel de Honey Bruce depois da recusa de Raquel Welch, que não se considerava à altura do desafio. Sua atuação pode parecer discreta em comparação com o desempenho avassalador de Dustin Hoffman, mas é no minimalismo que Perrine encontrou seu caminho. É seu olhar quem fala mais, mostrando ao público todo o turbilhão porque passa sua personagem, que se apoia no amor incondicional pelo marido como forma de superar todas as barreiras emocionais, físicas e morais pelas quais tem que passar em sua trajetória - que inclui desde o encontro com sua tradicional família judaica até o início do vício em heroína e suas inclinações sexuais pouco ortodoxas. Como narradora da história, é do ponto de vista de Honey que o público tem contato com a personalidade confusa de Lenny, e Perrine dá conta do recado com segurança - ainda que a Palma de Ouro em Cannes soe um tanto exagerada.
"Lenny" não é um filme para qualquer público. Sua narrativa é um tanto lenta - o que de certa forma contrasta com a velocidade de "Cabaret" - e o roteiro não apresenta grandes lances dramáticos exceto aqueles velhos conhecidos dos filmes do gênero, sendo quase didático. No entanto, é preciso louvar a edição de Alan Heim, que aproveita cada fantástico ângulo de Bruce Surtees para cadenciar o ritmo conforme as piadas de seu protagonista e a direção precisa de Bob Fosse, mostrando que seu Oscar não foi apenas uma questão de sorte. Assim como acontecia com as piadas de Lenny Bruce, é preciso mergulhar nas boas intenções sua cinebiografia para usufruí-la com todas as suas qualidades. Questão de gosto.